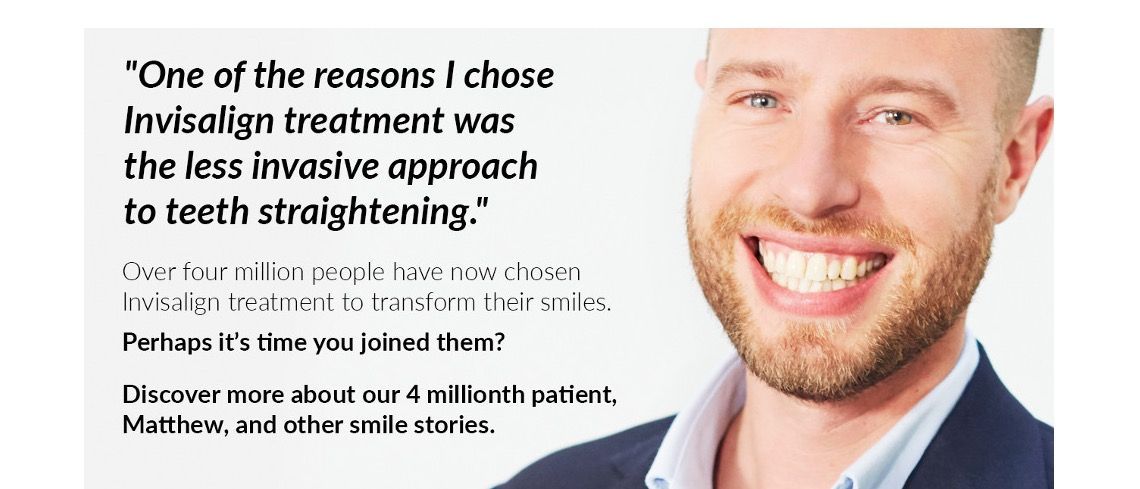 AS AN AWARD WINNING CLINIC, WE ARE PROUD RECOGNISED - GOLD - PROVIDERS OF INVISALIGN
What is Invisalign®?Invisalign is the virtually invisible way to straighten your teeth and achieve the smile you've always dreamed of. Using advanced 3D computer-imaging technology, Invisalign depicts your complete treatment plan based on our clinicians prescription, from the initial position of your teeth to the final desired position. Then a series of clear aligners are custom-made for your teeth – and your teeth only – to move them little by little. Each aligner is worn for about two weeks before being replaced by the next in the series, gradually moving towards the projected final position. Your Invisalign treatment time will be based on your specific needs.
Invisalign even allows you to view your virtual results and treatment plan before you even begin treatment so you can see how your teeth are expected to look when your treatment is complete.
WHAT ARE THE COSTS INVOLVED ?
As we know, prices widely vary from clinic to clinic. The quality and appearance of the treatment performed does too.
As an award-winning clinic our fees reflect our experience, dedication, exceptional standards of the work we provide and only the very best materials that we use. Nothing less will do.
We fully appreciate cost plays a big part when seeking treatment but it is also equally important to ensure you are receiving exceptional quality that not only looks good but lasts !
Here at TwentyOneDental you will receive just that. Exceptional quality with long-lasting results.
Wherever you may decide to be treated, NEVER compromise on cost. The cheapest option is not always the best option.
Only you can decide whether the costs involved to achieve the smile you have ALWAYS wanted is worth it. Think about it. If you are reading this then you have already thought about making the first step about something that will change your life for the better!
Sometimes the cost of such treatment may not be affordable for everyone straight away. We listen to our patients and to ensure they can achieve the smile they have always wanted, we offer several finance options including 0%.
WANT TO BE SEEN BY AN ACTUAL DENTIST BEFORE YOU MAKE A DECISION ? (Yes, a Dentist and not a co-ordinator !)
Unlike most clinics you will be seen here by one of our highly experienced, friendly dentists right from the start ! This not only gives YOU the opportunity to meet with who would be working with you to achieve the outcome you are looking for but is also an opportunity to SEE EXACTLY HOW YOUR TEETH WILL LOOK LIKE , YES - YOUR OWN TEETH via the use of our digital technology before treatment commences and to also:
· Learn about the process
· Explore the options available to you
· Be given an idea of likely costs
Call now to arrange your FREE no obligation consultation. One of our experienced and friendly dentists will talk through the Invisalign process in more depth, answer any questions you may have about the treatment and discuss our finance options available to you.

Please share our FREE no obligation consultation promotion and tell your friends!
Meanwhile, take a look at how Invisalign gave Kirsty the smile she so desperately wanted, not forgetting the regaining of her confidence. In Kirstys own words, "simply priceless - gave me my confidence back - worth the money" !
Related Treatments
Similar Articles