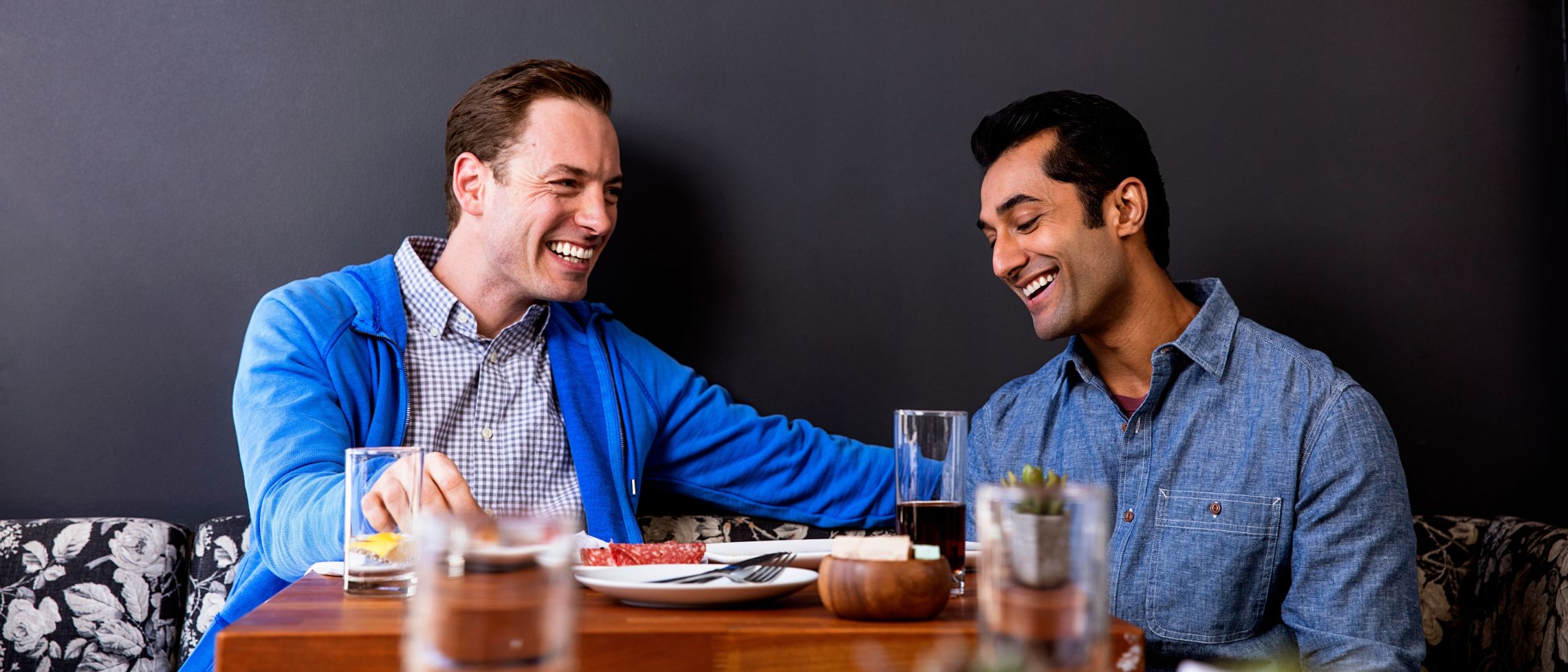 Ground-breaking new concepts are helping dental professionals to meet the career and social media-driven aspirations of people seeking to perfect their smiles imperceptibly while working – many in the public gaze.
Invisalign® is a pioneering orthodontic treatment which follows the same biomechanical principles as traditional orthodontics, but achieves tooth straightening using virtually invisible, flexible, removable plastic covers – known as aligners - which enfold and clasp the teeth, instead of conventional metal brackets cemented to the tooth surfaces which are then pulled into position with wires. These clear aligners are removable but worn day and night and are only taken out for eating and drinking - think soft contact lenses compared with glasses and you will get the concept.
The Invisalign system combines computer aided treatment planning, virtual modelling software, rapid 3D manufacturing processes, and mass customisation. The user's interface with technology starts at the first encounter with the dentist who, in many cases, takes a two minute digital scan of the mouth using a hand-held camera wand rather than mouth gagging putty moulds, greatly improving the their experience in the dental chair. Align's digital iTero intra oral scanner is an open architecture system which provides a dental 'chair-side' platform to map the alignment of the teeth, the shape of the mouth, its relationship with the surrounding tissues and the dimensions of the jaw. At a touch of a button these amassed images can then be displayed immediately on a screen in a variety of angles to allow the dentist to demonstrate the anomalies which could be corrected with the Invisalign system. The images can even be manoeuvred to show the likely outcome of treatment.
Sat Nav for the tooth straightening journey
The data is then fed into the company's software which provides the dentist with highly sophisticated three dimensional digital diagnosis and treatment tools which allows them to explore every element of the dentition in minute detail to create a tailored treatment plan. This has been described as a Sat Nav for tooth straightening. The start point is identified (using a digital scan), the best route is calculated, the journey plotted on screen and the results are shown before you embark.
Each tooth can be analysed by the dentist, shifted and rotated in virtual reality to explore the impact of its movement on the rest of the dentition and the consequence it could have on the treatment. As a result the accuracy and predictability of treatment outcome can be greatly enhanced.
The software can also be used to demonstrate the anticipated outcome when the teeth are aligned and allows discussion about potential treatment variances which allows you to make choices using accurate diagnostic information. The software shows how long the projected treatment will take, how many aligners will be needed to move the teeth, and so on, ensuring you are fully informed to consent to the treatment and that there are no unforeseen surprises.
Once a treatment plan has been agreed it is submitted digitally to Align Technology and each set of aligners – for the top and bottom teeth- is then custom-fabricated according to each stage of the plan. The plan indicates that each aligner is changed every one to two weeks*, for another with slightly different dimensions so that the teeth are moved incrementally by a couple of millimeters safely and comfortably towards the desired end position. Of course each treatment time is different but the average person has one year of treatment, which is equivalent to 26 sets of Invisalign aligners.
The company works with innovative partners, such as 3D Systems, who have been crucial in developing the application of stereolithography - the 3D printing technology used to mass customise the moulds of each person's dentition. This is then used to thermoform the Invisalign clear aligners. Align Technology produces over 175,000 individual components a day and every single one of these Class II medical devices are customised to an individual dentition. As a result they are the world's leading and largest users of 3D printing.
More bite
However it is not only the technology which has advanced incrementally. Five years ago Align Technology began the first in a series of new product innovations, improving the materials it uses, features it includes and the capabilities of the aligners, so that it is now able to treat far more complex malocclusions including severe misalignments, overbite, underbite, and crossbite.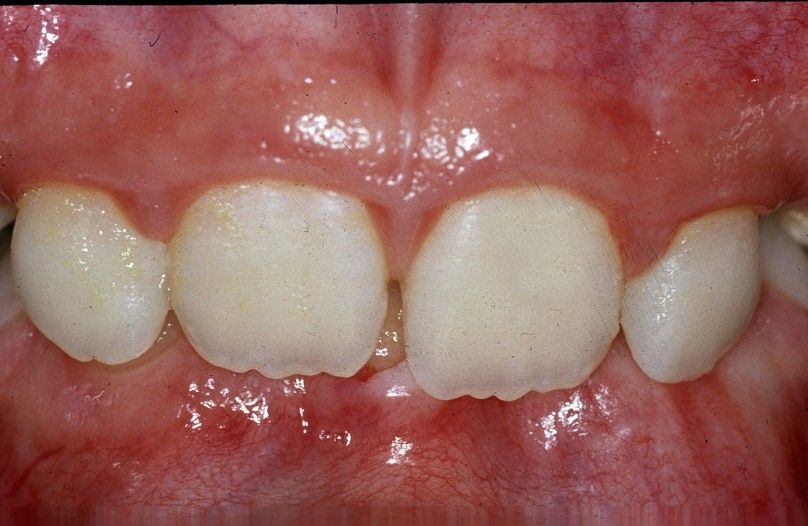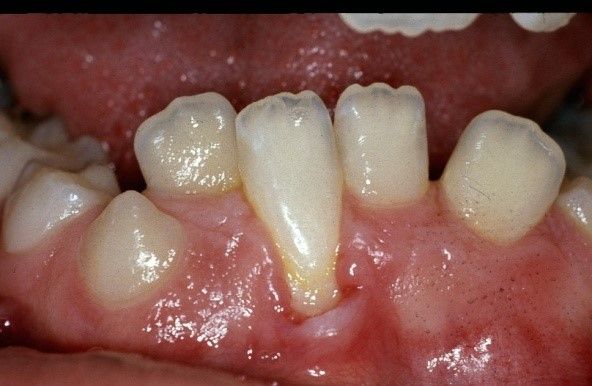 Gum trauma brought about as a result of a deep bite
Most recently has been able to address an orthodontic condition known as deep bite which affects an estimated 45% of teens and adults in Europe1 and, therefore, the system is well placed to offer solutions for a larger proportion of people with more complex malocclusions.
As a result of the new advances it is possible to improve the predictability of tooth movements and enable practitioners to achieve even better clinical outcomes. New and improved features have been engineered to offer control and improved predictability. These are customized for each tooth, using advanced virtual modelling, and are positioned precisely to deliver the proper forces.
Invisalign G5 can address all the requirements to correct deep bite, as Specialist Orthodontist Dr Dai Roberts-Harry explains: "Invisalign G5 makes it much easier than before to treat deep bite with clear aligners, which is one of the most common and more challenging types of orthodontic problems we see. With Invisalign G5, I can now treat a wide range of complex teeth straightening issues, and I see the Invisalign system with the same advantage as metal braces. With the significant number of new Invisalign features introduced over the past five years, including Invisalign G5, experienced I am now successfully treating a much wider range of people seeking Invisalign treatment."
To support these innovations in aligner development, Align technology also continues to improve the iTero digital scanner's features, with the notable inclusion of the Invisalign Outcome Simulator, which was designed to facilitate more efficient consultations and increase acceptance of Invisalign treatments3.
Dr Hanel Nathwani is one of them. He commented: "I am delighted I am able to use the new iTero Element intraoral scanner. The detail I am able to show patients of their teeth is illuminating. The iTero scanner is truly a ground-breaking innovation within dentistry and has completely transformed my patients' experience with Invisalign treatment. Before I began using iTero scanner, I would have taken putty moulds of patients' teeth, which many find quite uncomfortable, and sometimes several moulds were needed in order to achieve a good level of accuracy. With the iTero scanner there is no need for moulds; all that's required is an intra-oral scan using a hand-held wand that captures a digital image in mere minutes. The scanner takes an accurate recording of the surfaces of the teeth in 3D, which is imported into the Invisalign Outcome Simulator application, and within minutes, can formulate a 360 degree image of where the teeth could end up at the completion of Invisalign treatment. This can be incredibly compelling, and we have seen people cry after seeing how their teeth could be after a lifetime of feeling conscious over their smile."
By combining science, biomechanics, software technology and insights from treating over 4 million people the Invisalign system continues to develop year on year to provide people with a more aesthetically appealing and comfortable treatment choice for straightening even complex misalignments, allowing them to have treatment imperceptibly while working, playing sport, eating and drinking what they want when they want, and getting on with their lives.
For more information please search for an Invisalign provider here:
Related Treatment
Similar Articles