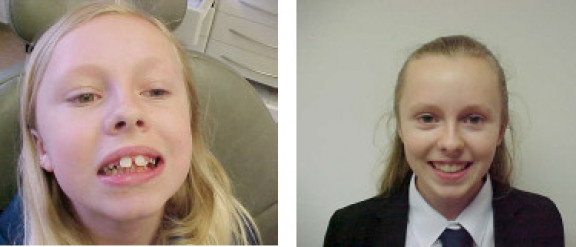 The life-changing impact of orthodontics on a 15-year-old girl who was victimised and called Bugs Bunny at school is being celebrated in the British Orthodontic Society's Against the Odds award, held annually to find the best story of specialist treatment submitted by a patient.
The entry of first prize winner Katharine Highfield of Coulsdon in Surrey, was commended by the judges, Capital FM newsreader, Holly Jones and Professor Tim Newton, Professor of Psychology as applied to Dentistry.
They commented: 'She went from being called Bugs Bunny and having people talking behind her back to feeling able to audition for a role in the school play. Orthodontics really changed her life. She told the story so well and her pictures illustrated the transformation.'
Of her orthodontist, Georgina Cartwright, from Croydon Orthodontic Practice, Katharine wrote: 'I would like to thank Georgina for perfecting my teeth and also for being really nice and supportive. I have found the whole treatment has made me a much more comfortable person and I am no longer afraid of the way that I look all thanks to Georgina who worked hard to make sure I got the result I did.'
Second place in the award goes to Jess Robinson, aged 17, for her entry describing her complex treatment to improve her smile and the positioning of her jaws.
Aged 8, she had numerous problems, including two missing teeth, a large gap between her front teeth and an underbite, where the lower teeth close over the upper front teeth. At the time she was told her problems were too extreme and she would need surgical treatment as an adult to reposition the jaw.
Three years later she saw a different specialist – Angus Pringle of Guildford Orthodontics – and, as Jess said, he 'understood the original assessment but liked a challenge'.
The judges said: 'This was a story of a complex course of orthodontics. The high standard of treatment that Jess enjoyed shone through in her story. At every turn, the orthodontist went the extra mile to accommodate her. The treatment was a hard slog for both the orthodontist and the patient but a great result made it worthwhile.'
The third prize winner is 12-year-old Daniel Allen of Stoke-on-Trent who was treated by Chris Lowe of Hightown Orthodontics in Crewe.
Daniel's hand-written story also impressed the judges who said: 'Daniel was delighted by the outcome and this really comes across. We loved the passion he put into writing his entry and his desire to win not for himself but for his orthodontist. This was a fantastic endorsement of his treatment.'
Professor Newton, who has judged the award for the last 11 years. said: 'All three were very close and the judging keeps getting harder. I am reminded every year of the miracles that orthodontists perform with their amazing transformations, not just of teeth but of lives.
Katharine wins £750 worth of travel vouchers while Jess and Daniel will be given an electric toothbrush each. The orthodontist of the winning patient, Georgina Cartwright, will be presented with a trophy at the next meeting of the BOS Orthodontic Specialists Group.
Guy Deeming, chairman of the BOS Orthodontic Specialists Group, thanked Holly and Tim for judging the award and Ormco for their sponsorship of the award.
Ask an Expert
Find a orthodontic practitioner
Related Treatment
Similar Articles